This case study documents the innovative business model developed by HNST, an Antwerp, Belgium based sustainable denim label that focuses on providing radical transparency. This contribution was written by Jolein Van Eyck, graduate student in the Master in Fashion Management program at Antwerp Management School.
The fashion industry is one of the most polluting and energy and resource intensive industries. In the last fifteen years, clothing production has even doubled and clothes are thrown away faster than ever before (McKinsey, 2016). It goes even further; no less than 50% of Flemish clothing ends up in residual waste. Worldwide this is even 75% (HNST, 2020). However, these infinitely negative stories will not help anyone further. Here, HNST comes in and show how it can act different by offering you the most sustainable jeans. HNST, an Antwerp-based label, was founded in 2018 as an initiative from Tom Duhoux. The entire collection of jeans consists of more than 50% recycled old jeans. These old denim garments were collected during a campaign in and around Antwerp with a result of more than 17.000 pieces. Today, less than 1% of collected clothing is recycled into new high-quality textiles. However, HNST succeeds to be part of this small percentage. In addition to this circular approach, the entire production takes place in Italy. In this way, they guarantee the best working conditions and a limited environmental harming.
CORE VALUES: What values does the company pursue? And how do they execute them on operational level?
HNST wants to offer their customers radical transparency. This is reflected in many daily business model choices. Even the name HNST which refers to the word 'honest' comes from this important value. On their website, the denim label provides you with all kinds of relevant information that is normally not easily shared. Think of the composition of fabrics or data about the producers or even how many profits they realize with one pair of jeans. Secondly, the label strives for the highest level of societal respect on every aspect. Regarding its products, this is translated to 100% recyclable jeans with no extra labels and pockets made out of 20% old T-shirts. In order to make consumers more aware of the bad environmental impact of washing, they even provide a free 'Morning After Spray' with every purchase to freshen up the jeans completely naturally without having to put them in the washing machine. As mentioned earlier, the best working conditions are guaranteed since every activity takes place in Europe. In this process, there are no chemicals or microplastics involved and it requires 75% less water than in the normal washing and dyeing stage.
VALUE PROPOSTION CANVAS
One of the reasons the case of HNST is interesting, is that the company was founded as a consequence of a pain or frustration which is rather rare in the fashion business. Most fashion labels start their idea from the creativity of the designer. In order to capture value from your product, it is necessary to understand who your customer is. HNST has found its best fit with societal conscious customers who appreciate a garment for its quality and origin. Due to the affordable price and the range of different models on offer, this appeals to a very large audience. Although the desired sustainable mindset is not yet there for everyone, this is strongly evolving to the benefit of the label.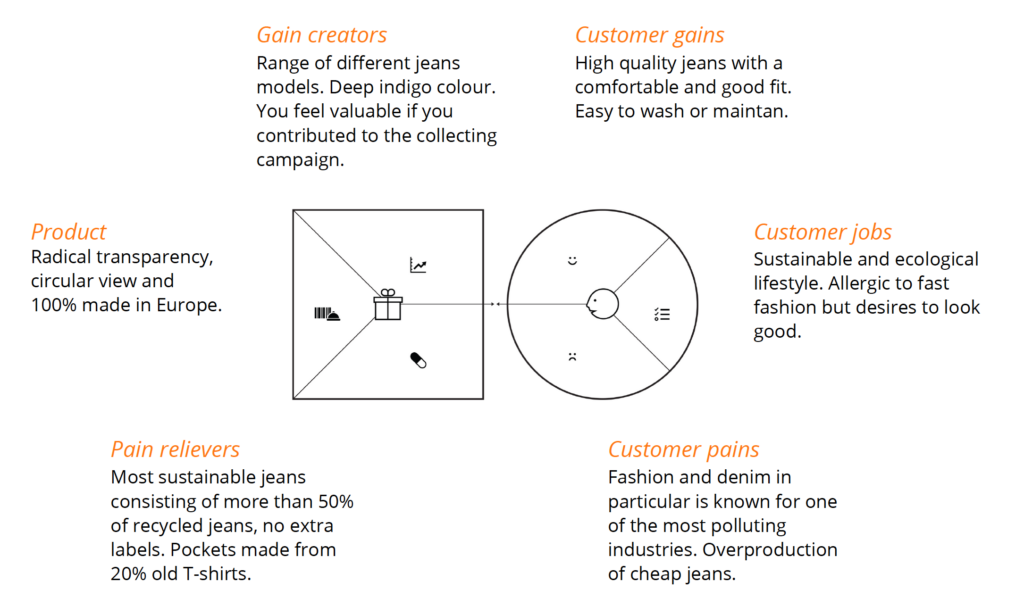 ENTREPRENEURSHIP
Lastly, there are some interesting moves of HNST regarding its approach of entrepreneurship. The brand's attitude toward cooperation is strongly in line with the concept of effectuation, developed by Saras D. Sarasvathy. Herein, players have a positive convergence towards co-creation where partners are self-selected in order to define and reach goals. Accordingly, HNST collaborated with the well-known Belgian label Ginger in the means of a capsule collection. Three statement pieces underwent a durable denim makeover. The collaborative attitude became already clear when HNST involved consumers to collect old jeans for their production.
CONCLUSION
Bringing all these aspects together, I forecast a bright future for HNST. In contrast to many fashion companies that are currently struggling with the sustainability problem, the business model of HNST has been built around this issue from the start. McKinsey and Business of Fashion (2020) confirm that sustainability will be both the single biggest challenge and the single biggest opportunity in the fashion sector. HNST is prepared for the future and I truly hope that consumers mindset will shift even further in 2020 towards a more societal conscious one.
REFERENCES
Mckinsey and Business of Fashion. (2020).